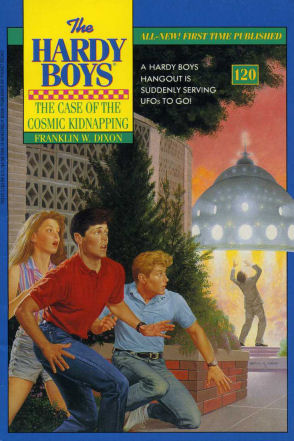 << Forrige bok
Neste bok >>
Nummer:
120
Utgitt:
1993
Sider:
160
Skrevet av:
Chris Lampton
Forsideillustrasjon:
Daniel Horne
Norsk tittel:
Hardyguttene og den store UFO-svindelen
Handling:
Chets sjef på fastfood-restauranten
Happy Burger
blir tilsynelatende kidnappet - av romvesener i en UFO.
Åstedet for kidnappingen, parkeringsplassen utenfor restauranten, blir umiddelbart rent ned av nysgjerrige tilskuere og innbitte UFO-tilhengere, som ønsker å få et glimt av det utenomjordiske.
Samtidig sender en TV-stasjon direkte fra åstedet, i et forsøk på å få seertallene til å skyte i været. Det er tilsynelatende bare Hardyguttene som mistenker at det kan være menneskelige årsaker til forsvinningen.
"I think Chet's suggesting that that thing we just saw was a UFO," Frank said.
"That's crazy!" Joe scoffed.
"What else could it be?" Chet asked. "You guys saw it. The flashing lights. The whining noise. They don't make airplanes like that. This must be what the flying saucer freaks call a 'close encounter of the third kind.' That's when somebody actually gets taken inside a flying saucer. In this case, my boss!"
Har du lest 'The Case of the Cosmic Kidnapping' på engelsk? Legg igjen en kommentar under!