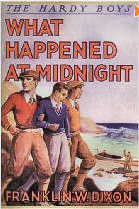 << Forrige bok
Neste bok >>
ORIGINAL UTGAVE:
Nummer:
10
Utgitt:
1931
Sider:
213
Skrevet av:
Leslie McFarlane
Forsideillustrasjon:
Walter S. Rogers
Norsk tittel:
Klokken slår tolv for Hardyguttene
Handling:
På slaget midnatt, på en stor fest på gården til Morton-familien, forsvinner Joe.
Broren Frank og vennene mistenker først at det hele bare er en spøk, men når det går flere dager uten at Joe dukker opp, settes det i gang store leteaksjoner etter den savnede gutten.
Til slutt blir han funnet, utsultet og i dårlig form, men Joe har likevel opplysninger å komme med om sine kidnappere.
Det er snakk om en bande som smugler diamanter inn i landet i stor stil, og jakten på kjeltringene fører Hardyguttene til store eventyr i verdensmetropolen New York.
They had never been to the metropolis before and it was characteristic of the lads that their first visit should be made in this manner, on the decision of a moment, without notifying their home, and starting off with no baggage and very little money.
"Probably," said Joe as the train roared northward, "we'll lose him in the crowd as soon as he gets off the train."
"He'll have to step lively," returned Frank,' but his confidence, too, was ebbing.
They did not lose sight of Chris. The fair-haired man read a newspaper for a while, then seemed to doze off, oblivious of his surroundings.
The train at length reached the suburbs of New York, clattered past miles of factories and houses, and sped on toward the heart of the great city. It was a new experience for the Hardy boys and they were wildly excited as the train roared on over busy streets, passed scores of high buildings under a pall of smoke and finally plunged into the gloom of the vast train-shed.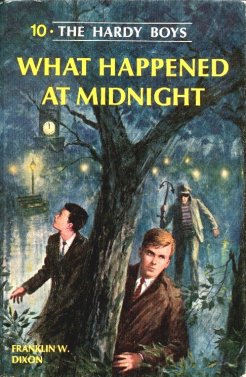 REVIDERT UTGAVE:
Utgitt:
1967
Sider:
173
Skrevet av:
Tom Mulvey
Forsideillustrasjon:
Rudy Nappi
Norsk tittel:
Ikke utgitt på norsk
Handling:
(Hentet fra The Hardy Boys Wikia)
Frank og Joe får et merkelig oppdrag fra faren: De må bryte seg inn i huset til en av Fenton Hardys klienter ved midnatt, og stjele med seg en verdifull oppfinnelse - for at den ikke skal bli stjålet fra noen andre.
Guttene gjør som de blir bedt om, men blir overrasket av tyver mens de er ute på oppdraget. Frank og Joe klarer likevel å komme seg unna med oppfinnelsen i behold.
Den neste kvelden forsøker de å jage en annen kjeltring som er ute etter den mystiske oppfinnelsen, da Joe blir kidnappet.
Frank, med hjelp fra vennene, må finne broren før han blir tatt med over havet og forsvinner for alltid.
"What an assignment! And from our own Dad!"
Joe Hardy grinned at his brother Frank as the two boys slipped into ripple soled shoes and put on dark jackets.
"First time we've ever been asked to play burglar," Frank answered with a chuckle.
A few days before, their father, an ace detective, and Malcolm Wright, an inventor, had left for California to hunt for Wright's valuable stolen antique plane. Because they would be delayed in returning, the inventor had requested the brothers to "break into" his home and retrieve a top-secret invention before thieves took it.
"A little nefarious work around midnight," Joe mused, "and all because Mr Wright left his keys inside the house and locked everything but one bedroom window with a broken lock."
"The invention must be something super or Dad and Mr Wright wouldn't have asked us to guard it with our lives," Frank remarked. "I wonder what it is."
"Dad gave us permission to find out. Say, suppose we can't locate that secret compartment we think is in Mr Wright's desk before those thieves arrive?" Joe asked. "I wish Dad could have given us all the details before the call was cut off and we couldn't get it back."
Andre covere:
Fra nytt opplag av originalutgaven, utgitt i 1946. Illustrasjon sannsynligvis av Paul Laune, men dette er ikke bekreftet.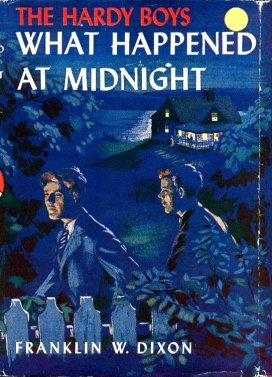 Har du lest 'What Happened at Midnight' på engelsk? Legg igjen en kommentar under!